PREM
Overview
The National Science Foundation (NSF) Division of Materials Research's Partnership for Research in Education and Materials (PREM) program allows the expansion between Hampton University-based materials science researchers and colleagues at the Brandeis University Materials Research Science and Engineering Center (MRSEC).
The five-year award will support collaborative research, education, training, and outreach activities of the Hampton University faculty, post-doctoral fellows, graduate students, undergraduate students, and high school students from Governors' School for Science and Technology (GSST).
Each research project is jointly directed by a Hampton faculty, who serves as the intellectual lead, and a Brandeis MRSEC faculty who provides access to specialize resources/facilities and contributes to the research design, implementation, and outcomes of the project.
The Hampton-Brandeis PREM is under the direction of Hampton University's Dr. Demetris Geddis and Brandeis University's Dr. Seth Fraden.
Contact
Hampton-Brandeis PREM
100 East Queen Street
School of Engineering & Technology
Hampton University
Hampton, Virginia 23668
Phone: (757) 728-6047
E-mail: nicole.jackson@hamptonu.edu
Highlights
Christopher Johnson Wins First Place in International Competition
Hampton University Electrical Engineering and PREM student, Christopher Johnson, won first place in the undergraduate poster competition presenting his work on "Enhancing the Design and Operation of a Haptic Interface Device" at the 2017 Fall MRS meeting in Boston, MA, on November 28, 2017.

...
Press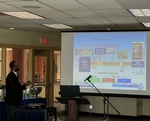 Hampton University Hosts PREM Research Symposium
The PREM Research Symposium was held on October 6, 2017 in the HU Student Center. This year's program included keynote speech by Dr. Demetris Geddis, Assistant Dean of the HU School of Engineering and Technology, as well as the afternoon poster session where PREM undergraduate students presented their research work.

...